Cleverse
Cleverse is a venture builder based in Thailand.
Cleverse has provided a lot of support to Creatorsgarten hosting some of our events at their office and providing sponsorship. The Garden Zero hackerspace is also located inside Cleverse.
Map
Getting there
By MRT
Go to Phra Ram 9 MRT station.
Take Exit 2 towards Central Rama 9.
Walk to Rungrojthanakul (Unicity) Building. The office zone is the part of that building with Cafe Amazon.
Go to 13th floor.
By car
Cars can be parked at the 2nd–3rd floor at a rate of THB 20 per hour. Can stamp the parking paper for a THB 15 discount.
draft
หากนำรถยนต์ส่วนตัวมา สามารถจอดได้ที่ชั้น 2 และ 3 ของอาคาร 44/1 รุ่งโรจน์ธนกุล (มีป้าย UNICITY) ชม. ละ 20 บาท นำสลิปกระดาษสีขาวขึ้นมา Stamp ที่ Cleverse จะลดค่าจอดให้ 15.-
ขึ้นลิฟต์มา Cleverse ชั้น 13 ไม่ต้องแลกบัตร
มอเตอร์ไซค์ จอดได้ที่ชั้น 1 ข้างป้อม รปภ. ชม. ละ 5.- (Stamp ไม่ได้)
MRT ทางออก 2 สถานี พระราม 9 เดินมาจนเจออาคาร 44/1 รุ่งโรจน์ธนกุล (มีป้าย UNICITY) ขึ้นลิฟต์มา Cleverse ชั้น 13 ไม่ต้องแลกบัตร
Map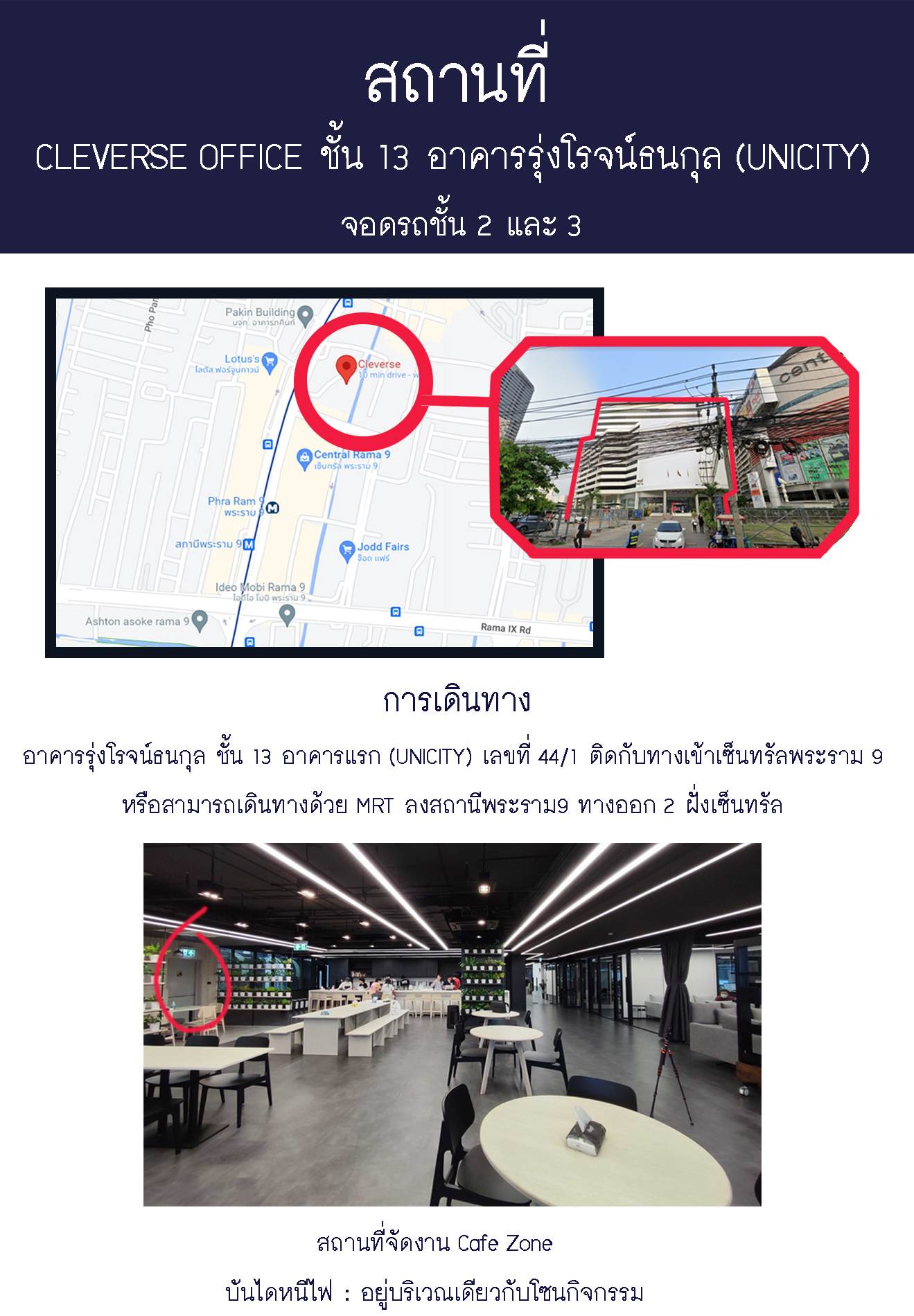 Hosted events
Sponsored
A/V equipments
Equipment
Description
Links
Notes
LG TV SSCR2 86-inch television
Video output
Default picture mode is APS (Auto Power Save)
For best latency and frame rate:
- On a Mac, click 'Show all resolutions' and set 'Refresh rate' to '60 Hertz'
- On the TV, set 'Picture Mode' to 'Game'.
There is an audio delay of about 60 ms.
TOA A-2240 Mixer Power Amplifier
Audio mixer/amplifier
Specs
3x XLR in
2x RCA in
Shure SVX
Wireless microphones system
1/4" and XLR out
evo 4 2in/2out Audio Interface
Audio interface
Manual
USB-C
2x TRS jack/XLR in
1x TS Jack in (for guitar)
2x TS Jack monitor out
1x TRS Jack headphone out
Normally, this is used to record sound that comes out of the A-2240 mixer.
Additional notes:
From Creative Coding Meetup

The normal setup at the venue is susceptible to audio feedback loop (speaker → mic → speaker). The maximum audio level that does not result in a feedback loop is too quiet (people at the back cannot hear). To fix this, some frequencies have to be filtered out using an equalizer and a limiter.
Logo
This is the Cleverse logo for as of 2023-07-04, for use in images:
Download logo_cleverse.svg
Nearby places to hang out
See Phra Ram 9.
Also see Thailand Cultural Centre (which is one station or 20-minute walk away).
#space